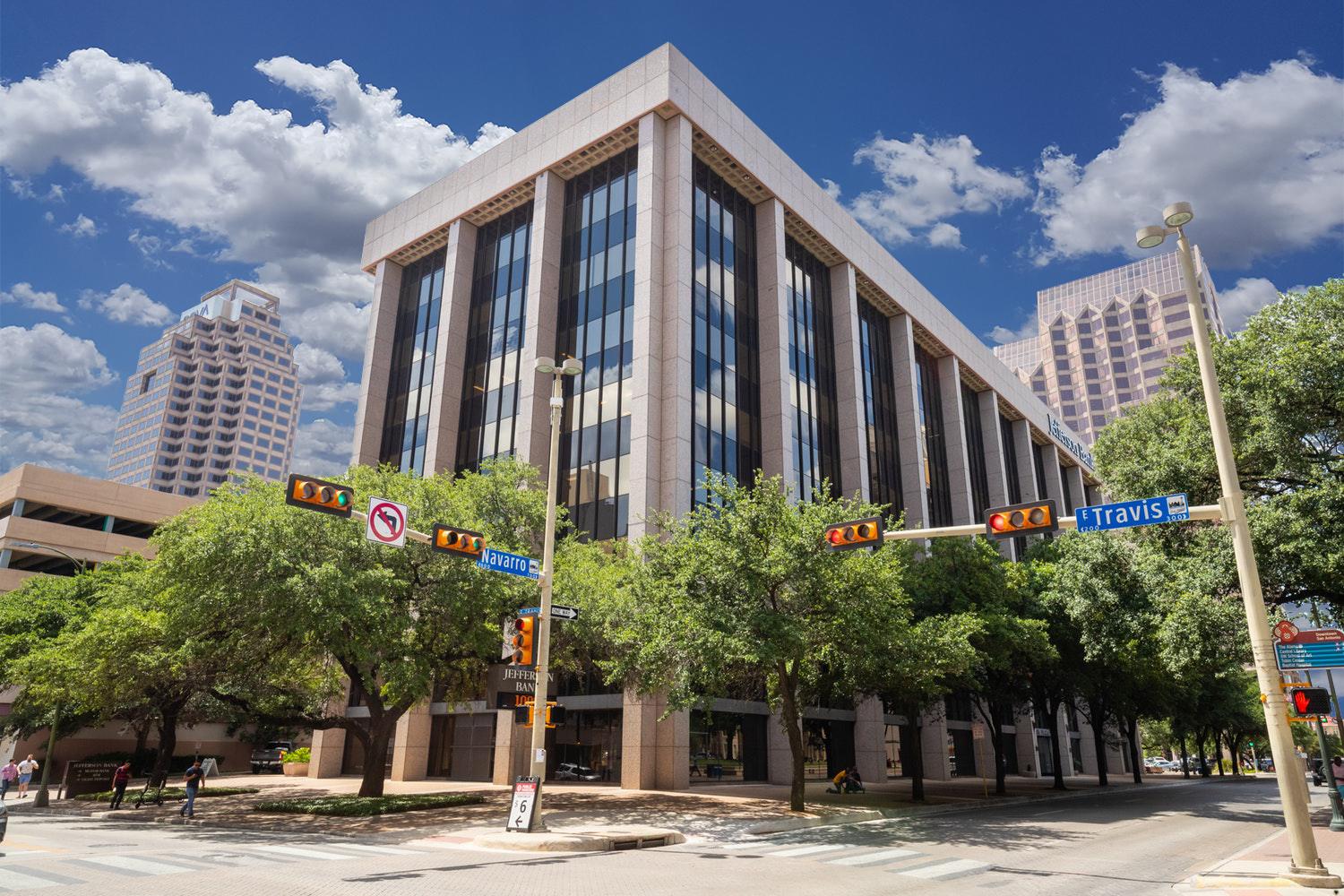 Travis Park Plaza
Common Desk has expanded our roots to San Antonio! Book a tour to see the energetic workspace offerings we're bringing to this new market.
Welcome to Travis Park Plaza!
Common Desk's first San Antonio coworking space is coming to one of the most booming business districts in the metro at Travis Park Plaza! Located in the heart of downtown San Antonio, Common Desk – Travis Park Plaza is bringing flexible office space to a diverse mix of hardworking professionals, local residents, and drop-in visitors alike. Our sweet digs at 711 Navarro Street will be outfitted with all the essentials and A-list amenities you need to get the most out of an office space.
Subscribe to our pre-opening newsletter to stay in the loop!
A taste of the space
Member app & technology
Flexible membership tiers for flexible work
Student memberships
Open shared space
Unique local art installations
Weekly community events
Chat booths for private calls
In-house coffee + espresso bar
Prime location
Enjoy working in the heart of San Antonio and a stone's throw from The Alamo, Travis Park, and the River Walk.
We put the "amen" in amenities
From bottomless drip coffee to seamless conference room bookings, the amenities found at Common Desk exist to truly enhance your workday.
Say hello to our Travis Park Plaza team
The Common Desk staff thrive off of helping our members grow their businesses, and our Travis Park staff members put you and your business first. Meet the people behind this amazing location.
Jesse
Community Lead - Travis Park Plaza
Hi there! I'm Jesse, Community Lead for Common Desk – Travis Park Plaza. I'm a huge people person and love meeting new people. Outside of work, I'm an influencer on social media and enjoy trying new restaurants and attending events. I thrive in the hustle and bustle of the downtown lifestyle. A drink that keeps me going is a good dirty chai latte. Come on by and say howdy in the heart of San Antonio at Travis Park Plaza!
Amanda
Community Associate - Travis Park Plaza
Hello! My name is Amanda Lopez, the Community Associate for Common Desk – Travis Park Plaza. My favorite part about Travis Park Plaza is that it's our FIRST San Antonio location! The most important way for me to start my day at work is good iced vanilla coffee, a meaningful conversation, and positive energy. I love a themed happy hour and community events that celebrate a specific holiday. I'd love to see you come enjoy the Common Desk magic!
Katy
Senior Community Manager - 6th & Congress
Hey y'all! My name is Katy and I'm the Senior Community Manager for five of our Common Desk locations across Houston, Austin, and San Antonio. I'm always energized by giving tours and connecting with people, usually over food. I love getting to see our locations in Houston, Austin, and San Antonio thrive and that's mainly due to our amazing community teams. You'll have to come check out the locations for yourself and see why each space is so special and inviting.
Tap into our other locations
Our coworking network is wide-open, which means when you become a member of one Common Desk location, you automatically gain access to all Common Desk spaces. Take a look at our other coworking locations: